Saturday, July 28, 2018 ~ Sunday, August 19, 2018 Adults 500 (400) yen, University and high school students 300(250) yen
Outline
In the region covering present-day Iran and its vicinities, the production of undecorated earthenware began around 6000 BC. By 5000-4000 BC, earthenware decorated with geometric or animal patterns painted in black or brown pigments began to be produced in the Mesopotamia and the neighboring western region. By around 1000 BC, red, gray and black earthenware with burnished surfaces began to appear in various regions. Particularly in the south coast region of Caspian Sea, unique earthenware vessels in the shape of human beings and animals were produced in large numbers.
Blessed with rich mineral resources, casting technique developed in the Iranian Plateau region to a high standard, producing various metal works. Although the uses of some of these works are unknown today, there are many examples that share the forms and decorations with earthenware.
This exhibition introduces the highly individual craftsmanship bloomed in the land of ancient Iran through the approximately 30 works of earthenware and bronze ware from the Takada Collection.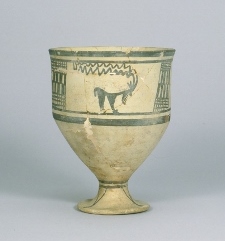 Saturday, July 28, 2018 ~ Sunday, August 19, 2018 Adults 500 (400) yen, University and high school students 300(250) yen
Outline
Approximately 300 works of Chinese, Korean and Japanese ceramics selected from the museum collection will be on display.
Chinese and Korean Ceramics of the Ataka Collection
Korean Ceramics of the Rhee Byung-chang Collection
Japanese Ceramics
Chinese Snuff Bottles of the Oki Shoichiro Collection