Saturday, April 8, 2017 ~ Sunday, July 30, 2017 Adults 1,200 (1,000) yen, university and high school students 700 (600) yen
Outline
In 1826, porcelain production began in Herend, a small village in southwest Hungary. Learning from the antecedents such as the porcelain manufactories of Meissen and Vienna, which produced numerous masterpieces, the Herend factory achieved a remarkable improvement in the quality of their products. It did not take long before Herend Porcelain Manufactory to become a purveyor to the royal family of the Austro-Hungarian Empire. Shortly after Queen Victoria of England ordered a dinner set at the 1851 Great Exhibition in London, Herend became widely known throughout Europe.
Thereafter Herend maintained its high reputation with its distinct style inspired by the ceramics of the East, being awarded a prize in every world's fair. At the end of the nineteenth century, swimming against the tide of mass production, Herend stuck to handicraft manufacturing and continued to pursue the production of finest porcelain. The great artistry of their products enthralled the kings and nobles of Europe, and Herend became a leading work of art in Hungary, both nominally and virtually, and it still is even now.
This exhibition introduces the 190-year history and charm of Herend Porcelain Manufactory through the approximately 230 works selected principally from the collections of the Museum of Applied Arts, Budapest, the Herend Porcelain Museum and the Hungarian National Museum.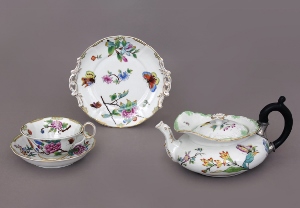 Saturday, April 8, 2017 ~ Sunday, July 30, 2017 Admission ticket for the special exhibition grants entry to all exhibitions
Outline
Since the Special Exhibition "Herend Porcelain from Hungary" is now under way, the exhibits of the permanent collections have been moved to Galleries G, H ,I and J. Approximately 60 pieces from the following collections are on display:
Chinese Ceramics of the Ataka Collection (approximately 20 works)
Korean Ceramics of the Ataka Collection and Rhee Byung-Chang Collection (approximately 20 works)
Japanese Ceramics (approximately 20 works)
Chinese Snuff Bottles of the Oki Shoichiro Collection (approximately 100 works) are also on view.