Saturday, April 7, 2018 ~ Monday, July 16, 2018 Adults 1,200 (1,000) yen, university and high school students 700 (600) yen
Outline
This exhibition focuses on the works of the
Manufacture nationale de Sèvres
or the national porcelain manufactory of Sèvres, which developed under the support of the French court and have been active through the vicissitudes of nearly 300 years. The Sèvres factory finds its origin in the soft-paste porcelain manufactory established in Vincennes, a town in the eastern end of Paris, in 1740. This was in the 18th century, when the desire for porcelain among the people in Europe had been growing to a large extent. With the support of the powerful king Louis XV, the factory was moved to the town of Sèvres, located in between Paris and Versailles, and became a Royal property. In 1769 Sèvres successfully developed the recipe and production techniques of hard-paste porcelain. The court invited their favorite skilled painters and sculptors to produce intellectual and sophisticated works, which were presented to King Louis XVI and Marie Antoinette. They were also given as diplomatic gifts to foreign important figures, captivating the hearts of many kings and aristocrats including the Russian empress Catherine the Great. Surviving the tumultuous times of the French Revolution and by the time of the rise of Napoleon, the forms of Sèvres porcelain shifted to the Neoclassical style. During the age of World Fairs which begun in the mid-19th century, Sèvres produced various innovative works that surpassed the category of "tableware". Their relationship with Japan begun in the early 20th century, when they worked with the Japanese sculptor Ichiga Numata, the first non-French artist who produced molds for Sèvres ware. Such collaboration with artists is an important part of their work – along the production of traditional tableware – and continues extensively today with leading artists including Pierre Soulages and Yayoi Kusama.
The approximately 130 works from the collection of Sèvres – Cité de la Céramique displayed in this exhibition bespeaks the 300-years history of the manufactory. We hope you will enjoy the charm of Sèvres porcelain, which have always maintained its high degree of elegance and sophistication even through various transitions.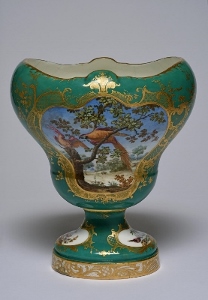 Saturday, April 7, 2018 ~ Monday, July 16, 2018 Admission ticket for the special exhibition grants entry to all exhibitions
Outline
Since the Special Exhibition "300 ans de création à Sèvres: Porcelaine de la Cour de France" is now under way, the exhibits of the permanent collections have been moved to Galleries G, H, I. Approximately 50 pieces from the following collections are on display:
Chinese Ceramics of the Ataka Collection (approximately 25 works)
Korean Ceramics of the Ataka Collection and Rhee Byung-Chang Collections (approximately 25 works)
Chinese Snuff Bottles of the Oki Shoichiro Collection (approximately 100 works) are also on view.